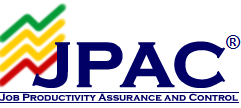 JPAC®: Optimize Your Productivity
Job Productivity Assurance and Control (JPAC®) is a process designed to measure, predict, and improve job site labor productivity for contractors.
You have invested a lot into your accounting software already; why not enhance it with a new way of managing your projects! JPAC® will be customized for your company so you can retain current cost codes, project management processes and accounting system.
Anyone Can Use It
JPAC® is a simple and easy-to-use tool that can be applied in any level of any company. Its features are applicable to any project, and provide all the information needed to maximize the productivity of the company as a whole. This information include:
Please feel free to email (info@mca.net) or call us at (810) 232-9797 to discuss how we may be of service to your chapter or if you would like more information on the services we offer.