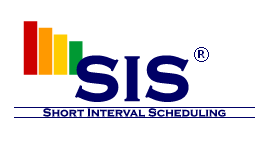 SIS®: The official application software of ASTM Standard E2691.
As part of the job kickoff meeting, contractors should look ahead to each task's labor and material requirements. This concept, called Short Interval Scheduling (SIS®), allows contractors to react to project changes with increased agility and responsiveness. Many years of data and a study for the Electrical Contracting Foundation, a research foundation for the National Electrical Contractors Association (NECA), proves that the ideal job site inventory is three days of material. According to the same study, labor allocation is also most effective in three-day intervals. In addition, SIS® validates JPAC® productivity measurement and identifies the root causes of special events on the job.
What does SIS® do?
SIS® is simple. Workers schedule their work for the next three days. Then, the PM scores the schedule on a daily basis, points out deviations from the schedule, and identifies the root causes for each deviation.
SIS® identifies hindrances to the field that are causing the field workers to not be able to install the most effective and productive way (e.g., trade stacking, trade interference, lack of materials, lack of tools, broken tools, etc). The 3-day look ahead also helps the foreman to plan for material ordering and procurement as well as appropriate manpower for the coming weeks.
Please feel free to email (info@mca.net) or call us at (810) 232-9797 to discuss how we may be of service to your chapter or if you would like more information on the services we offer.